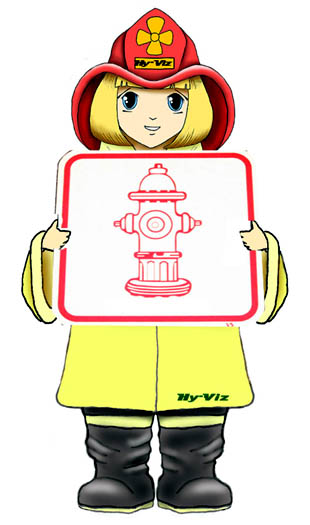 Can be mounted on any signpost
or wall with pre-dilled holes or order
them with all-weather adhesive backing.


Perfect for sound barriers along highways, buildings, standpipes or busy urban areas for year-round use!


Space for hydrant numbering if desired!


Engineer grade white reflective face.


Highway grade .080" thick aluminum
with red hydrant.


12" square standard,
other sizes available:
24" & 30" square, 12"x18", 24" x 18"


Double-sided signs available!



We can offer ANY product to
mark your hydrant! From the
hydrant signs here,
a hydrant marker in fiberglass
or solid 100% stainless, raised
pavement markers, reflective
numbering panels, and more!
All custom made to your needs!!
Hydrant Sign Full Color Data Sheet!
( Acrobat .Pdf)