If you are having problems
with our new menu, please
let us know!
We also have text links
on the bottom of every
page and a site map!
Our Canine Heroes


On a heavyweight T-shirt, is an American Flag with:
Paw prints instead of stars!!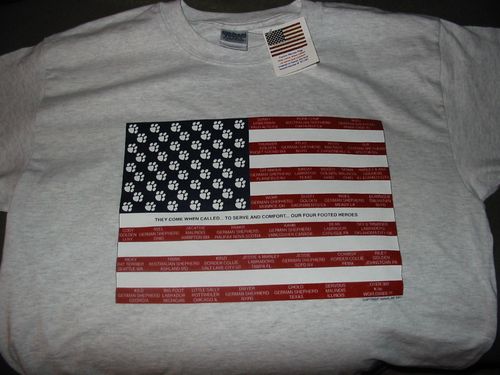 US Flag Shirt!

In each Red stripe are some of the names breed and location
of some of the search & rescue dogs that served at and
after 9.11 at the World Trade Center.
Some of the breeds listed are: Golden Retrievers, German Shepherds,
Australian Shepherds, Dobermans,Labradors, Dalmatians and more!
Listed dogs come with names and origin also!

In the WHITE center stripe it says
"They come when called, to serve and comfort, our four footed heros"

These are HEAVY cotton, High quality, no short cuts!