"Snowpoles" – Never use painted wood again!
Snow removal and guidance on today's highways present unique problems, especially at night
and at the critical hours of dusk and dawn, during inclement weather and fog when visibility is reduced.
There is a critical need for highly visible guides that help plow operators to avoid hazards and damage to fixed objects.

Research has shown that fluorescent colors grab the eye's attention quickly. Not only in daytime but
also in limited light during sunset and dawn, or on dark, gray winter days when visibility is limited, SnowPoles stand out boldly helping to guide snow plow operators, drivers, utility workers,
skiers, snowmobile drivers, pedestrians and more!
The result is tremendous visibility and the promise of fewer accidents and lower
costs associated with damage to fixed objects, such as guardrails, curbs etc.



You won't get this kind of performance with sampling cut from local forests.
You won't get it from imported bamboo or 1x2's from the hardware store.

Even painted rods can't give you the consistant vivid brightness
and visibility in low light conditions that our Snow Poles can.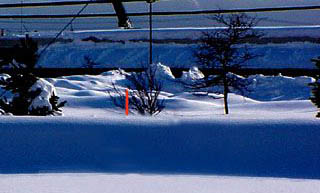 Snowpoles are essential to safe, cost effective snow removal operation.
In addition, snowpoles can be utilized to:
" Using Snow Poles improves operator safety and reduces replacement
costs by effectively guiding your plowing operations, day or night."
Hy-Viz Inc. -Woman owned, Family Run-- We care!
(phone) 973-478-1464 (fax) 973-478-1943